Thanks Deputy Wynn, our School Resource Officer, for coming to Valle Vista and spending lunch time with our students!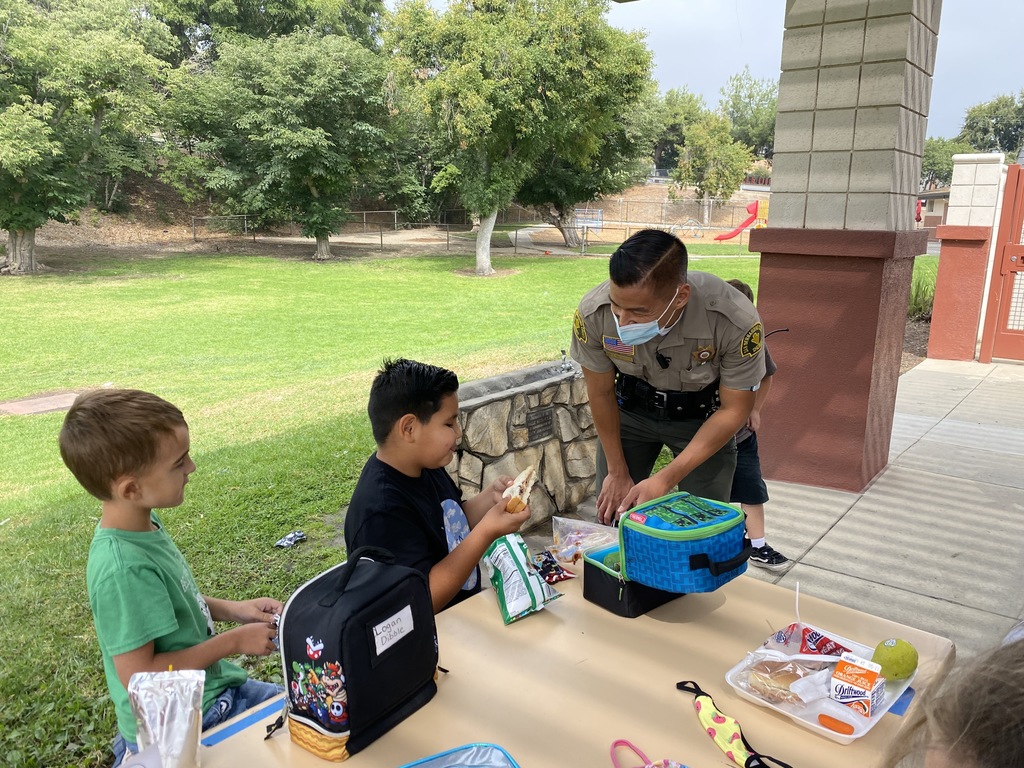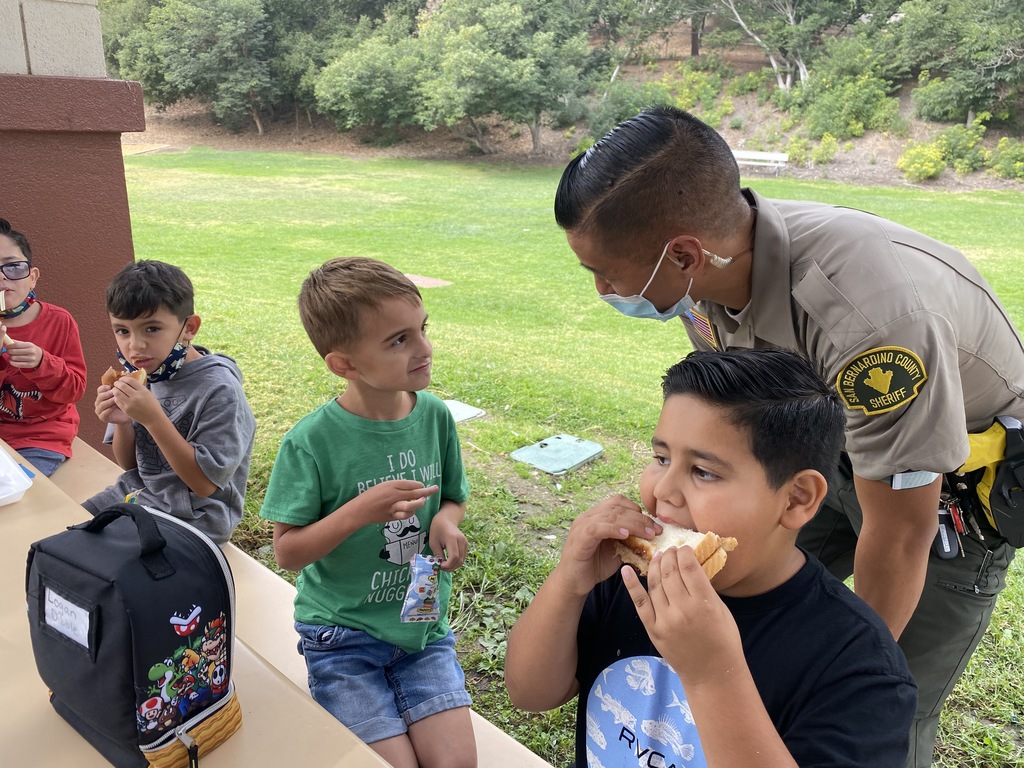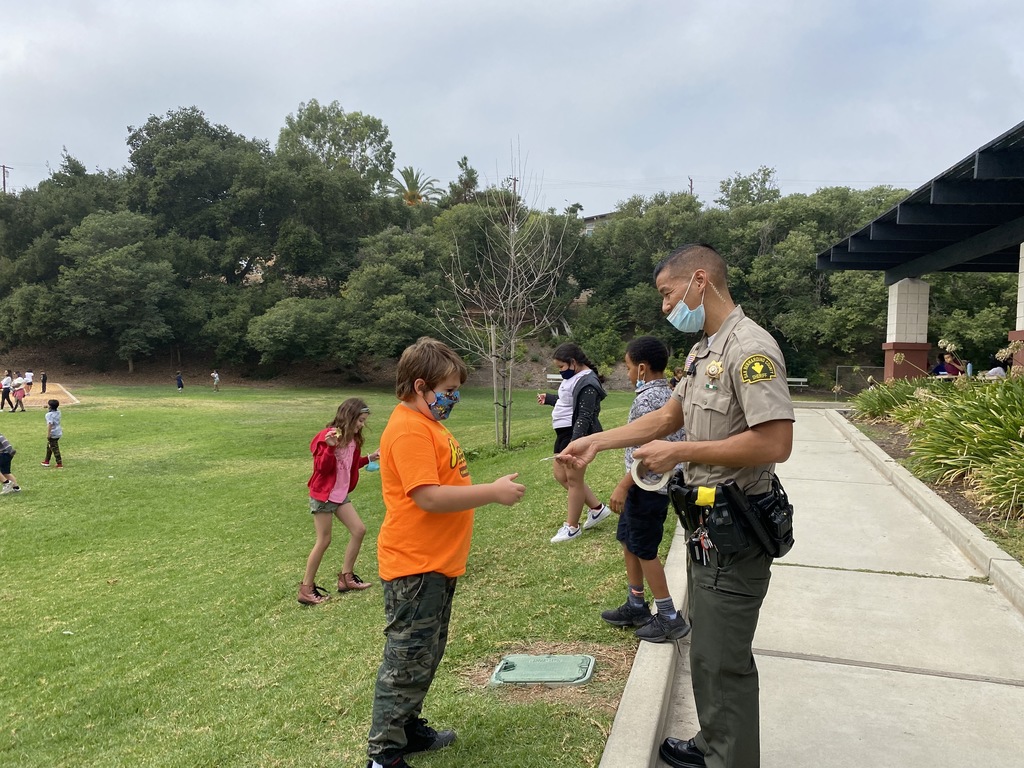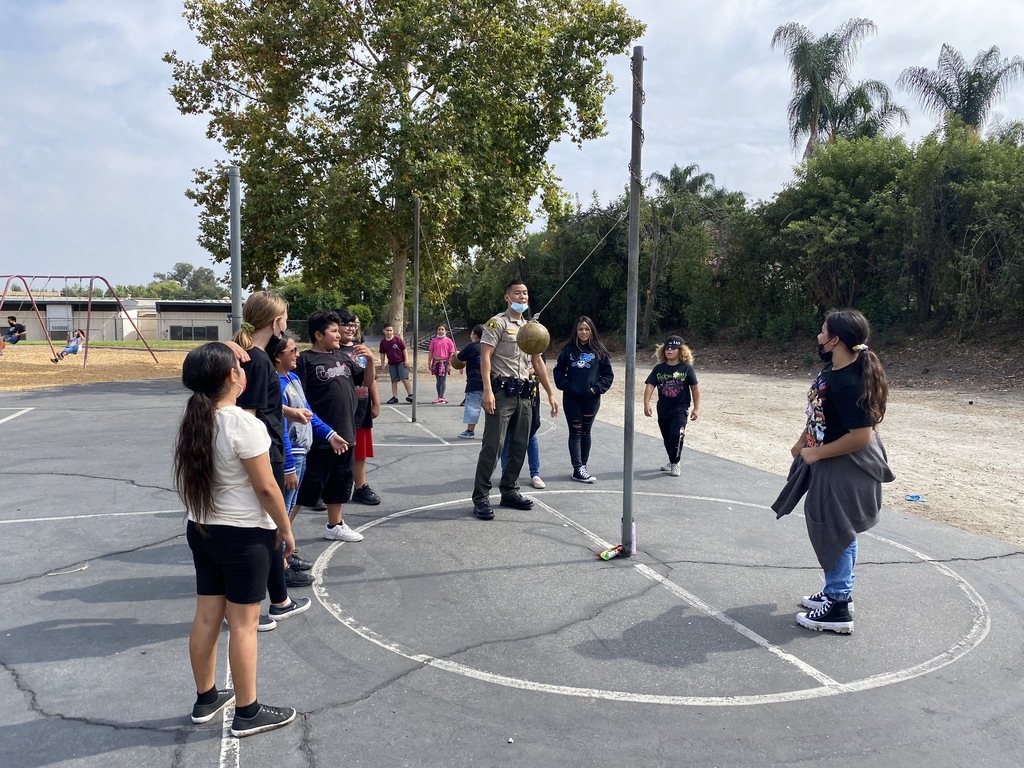 The district is pleased to work with stakeholders to develop a three-year plan to help identify how to allocate one-time federal funds under the Elementary Secondary Schools Emergency Relief funds because of the effects of the COVID-19 pandemic. The dates of the survey are from now through October 10, 2021. Please help us by sharing your thoughts on ways we can improve our support to students, staff, and the community. A live link can be found in our News section under ESSER III Plan Survey.
https://www.surveymonkey.com/r/HNSX8Q2

Join us for Optimistic October and find ways to stay positive, even when times can be challenging. Always remember to bee kind.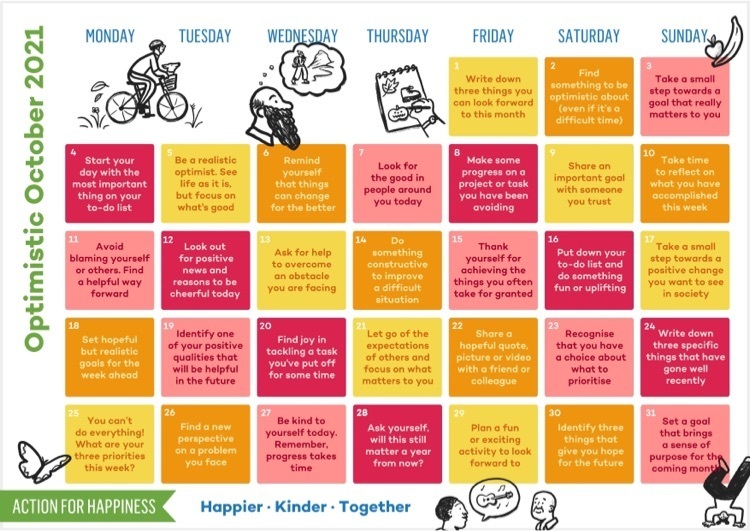 Mark your calendars for Wednesday, September 15th and join us for a Valle Vista family night at Vince's Spaghetti (Foothill location) from 4:00-9:00 p.m. Flyers will be sent home with students the week of Sept. 7. Additional flyers can be downloaded @
https://5il.co/yj1m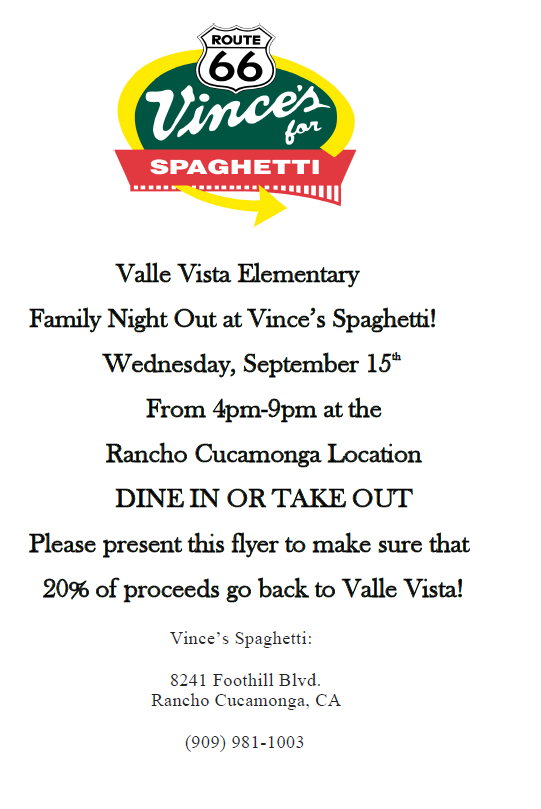 The Bird Buck store is open during lunch on Wednesdays. Students can purchase toys and school supplies with Bird Bucks they earn for being helpful, kind, and trying their best. A big thank you to Miss Dunn and our Hawk Ambassadors for running the Bird Buck store.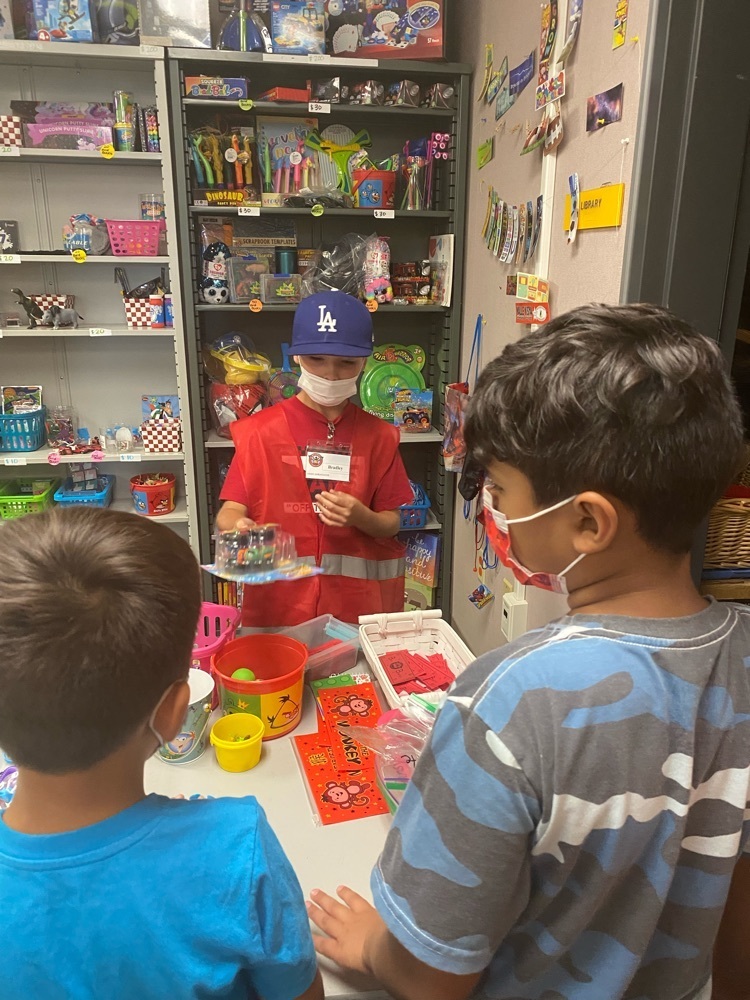 Valle Vista has partnered with Art Specialties Inc to create sensory paths for our students throughout campus. Sensory paths are fun and engaging way for students to get their wiggles out, brain breaks and get in some extra physical activity. Here is a little preview of what we have created so far.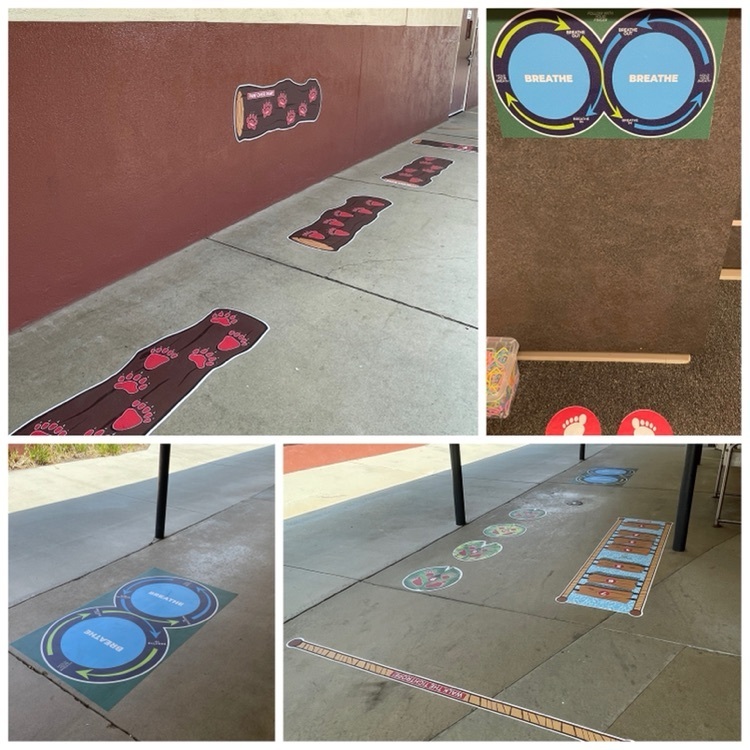 Elementary menu change - Students at all elementary sites will have beef hamburgers for lunch on Tuesday, August 31 instead of beef rib-b-ques. We apologize for any inconvenience. Please contact Nutrition Services with any questions at (909) 484-2702. Thank you!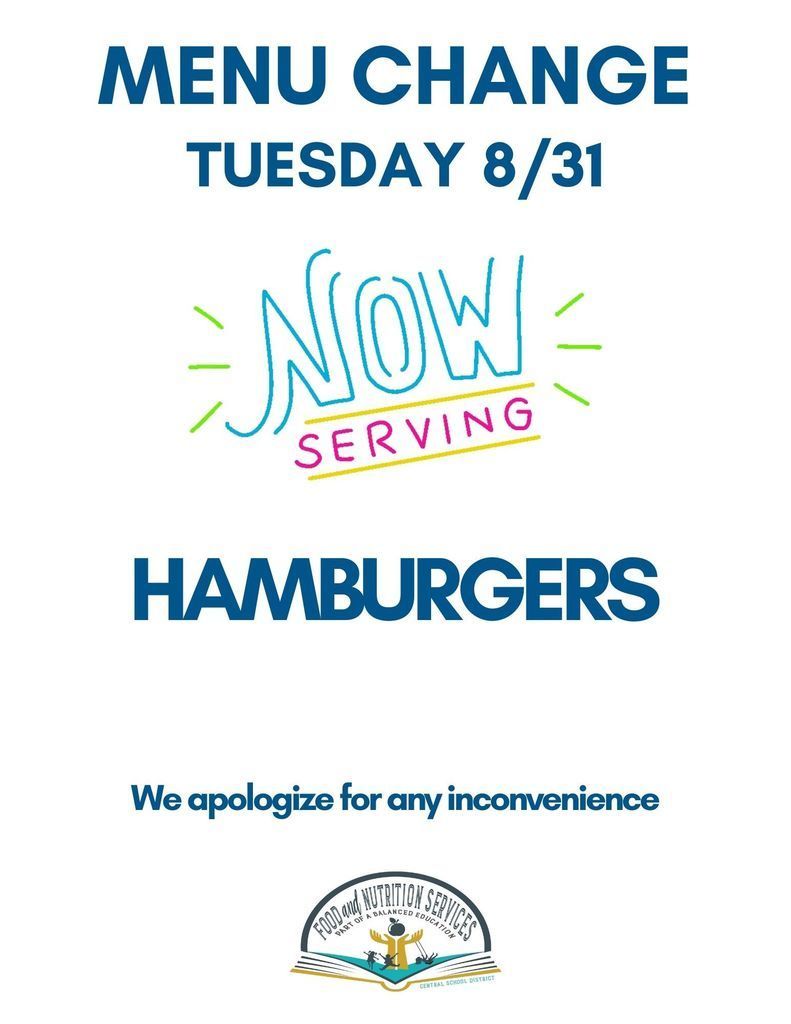 Valle Vista Students and Families: Order your Valle Vista spirit wear today! The Koala-T online store will be open through Sunday, August 23rd. Spirit wear will be delivered to classrooms the week of September 6th.
https://design-koalats.com/valle_vista/shop/home

Look at the delicious crispy chicken salads we are serving up at RMMS! Our middle schools serve entree salads throughout the week & offer fresh side salads daily. Elementary students have a full salad bar that they can choose their favorite fruits & veggies from to pair with their entrees. We have fresh selections available at all our schools for students daily....check it out!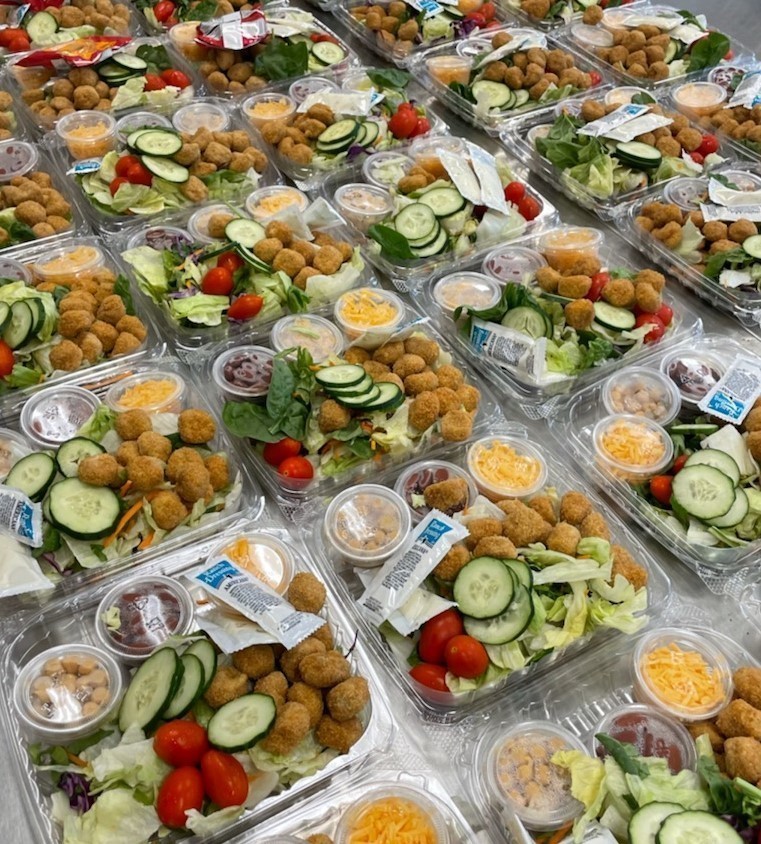 Wednesday, August 4 is the first day of school. We are so excited to have our students return to our school sites! Drop off traffic may cause delays, so please be patient with us. If your child is sick, please keep them at home and we will be happy to welcome them back into school when they are feeling better. This 2021-22 school year is going to be great! Together we are CSD!

Who is ready for the first day of school? Valle Vista teachers are ready and so excited to meet their students on Wednesday!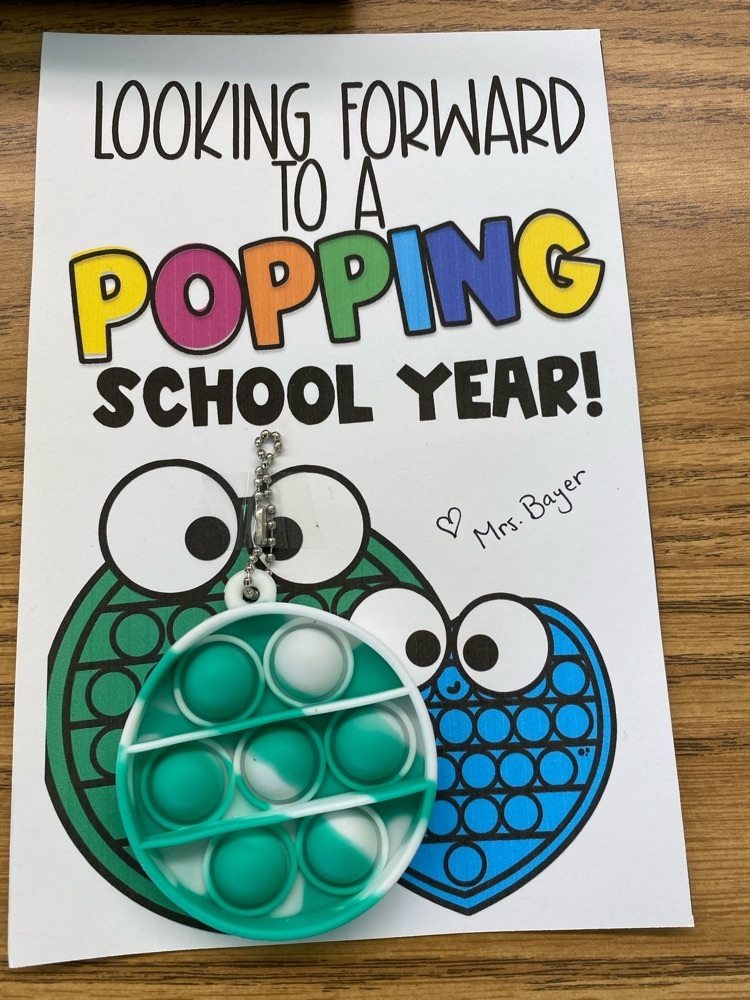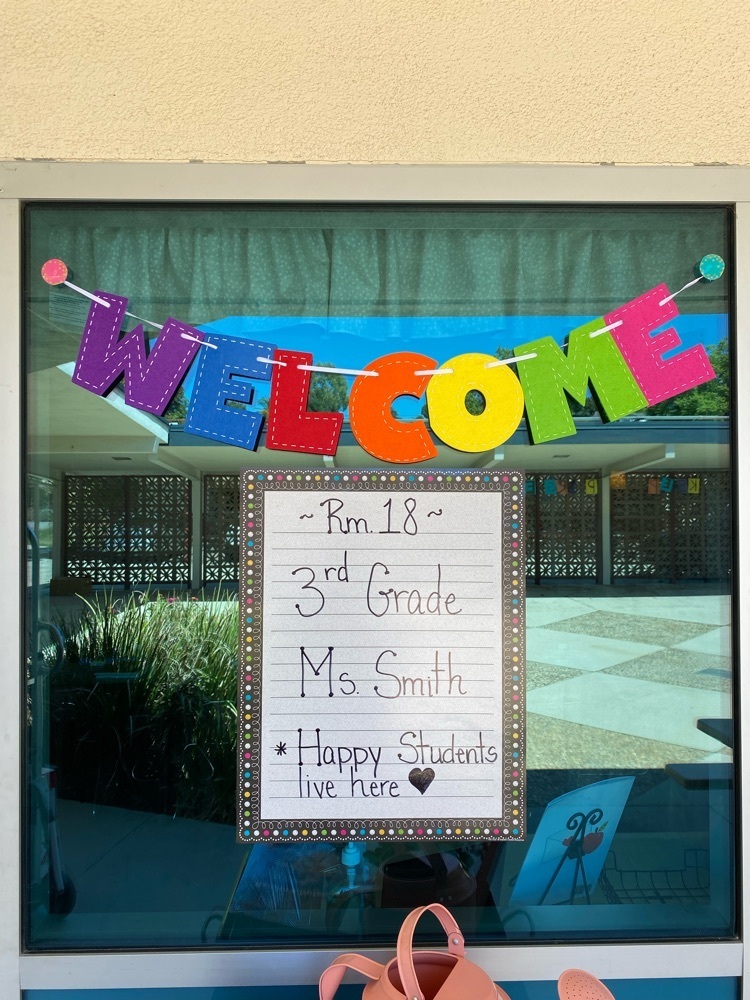 Great News! Breakfast and lunches are free for ALL students. Check-out the August menus to see what delicious options are available for breakfast and lunch.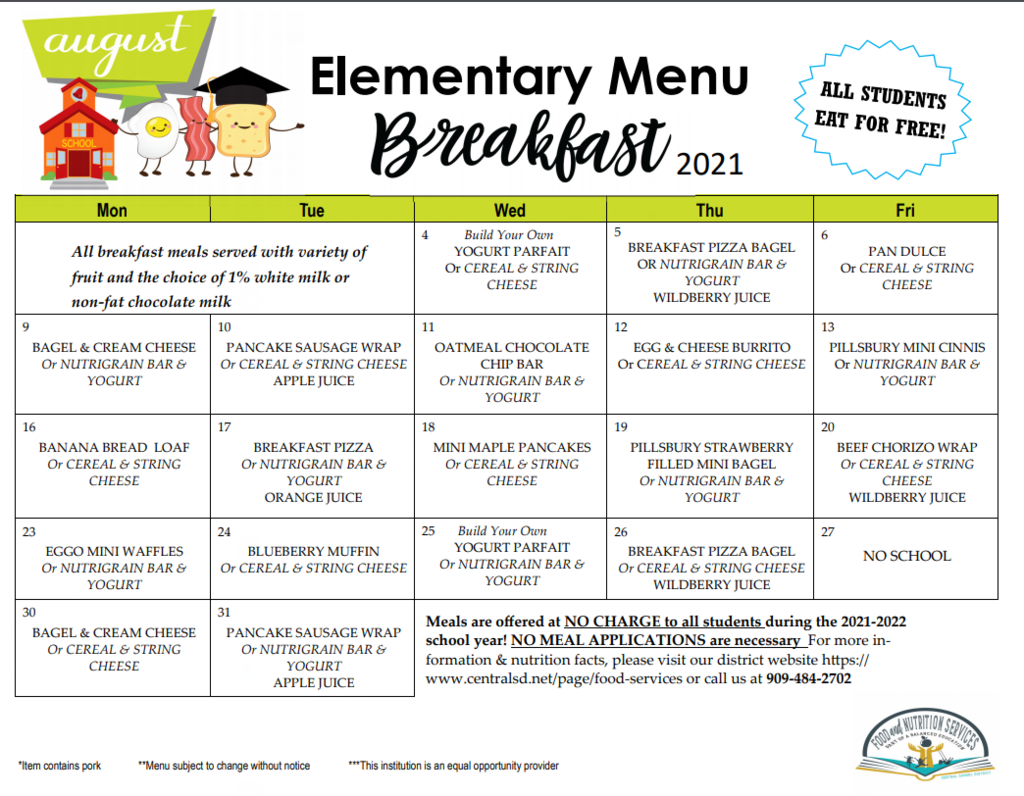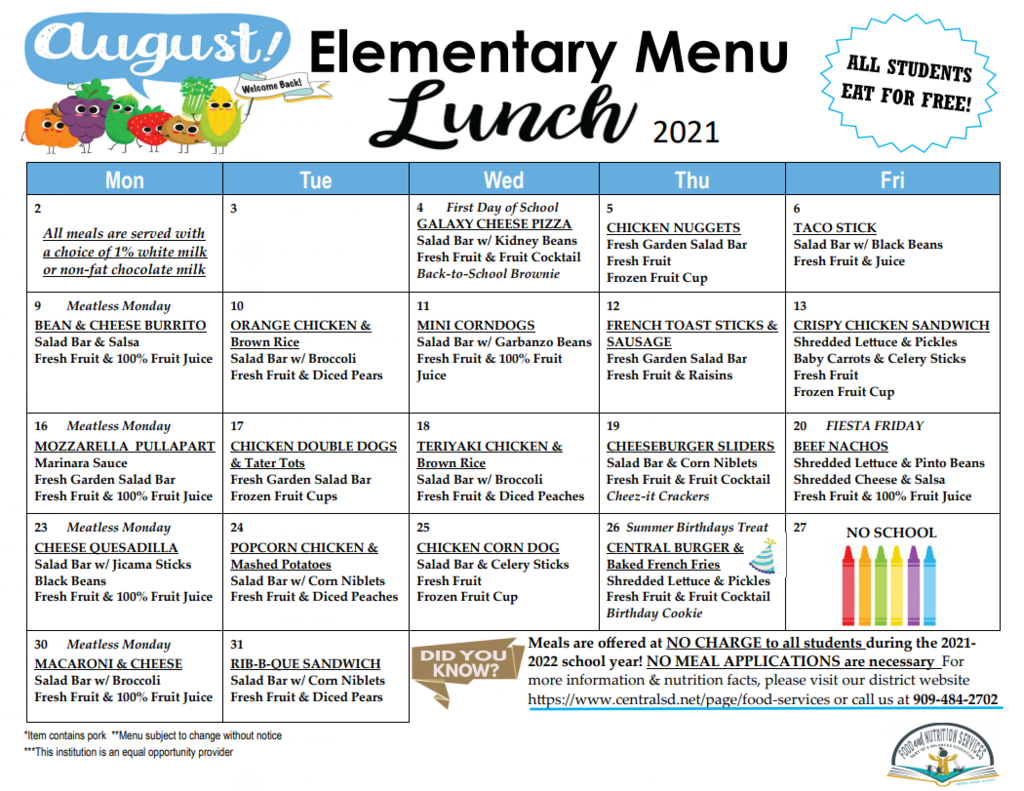 Free school meals for all students!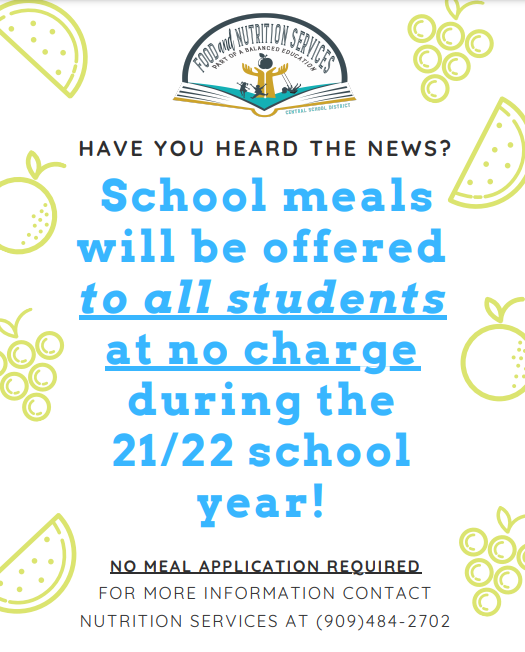 Central School District's first day of school on August 4, 2021 is quickly approaching! Please visit our new website at
www.centralsd.net
for our welcome back letter. The letter can be found in the news section of the front page of our website and contains some important information regarding the first day of school. We can't wait to see everyone back at school on Wednesday, August 4, 2021!



Central School District is seeking candidates to fill the vacancy for the remaining term of the Trustee Area 2 seat. For more information, please visit the district website.

The Aeries parent portal is now open to complete data confirmation for all students enrolled for the 21-22 school year. Log in to your Aeries parent portal at
https://centralsd.asp.aeries.net/Student/LoginParent.aspx
and click "forgot password" if you need to reset it. All families must complete data confirmation to confirm student information is correct in our system. New students must complete online enrollment prior to data confirmation.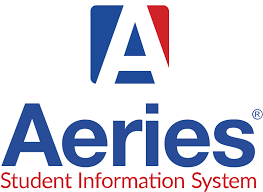 Food and backpack giveaway this Saturday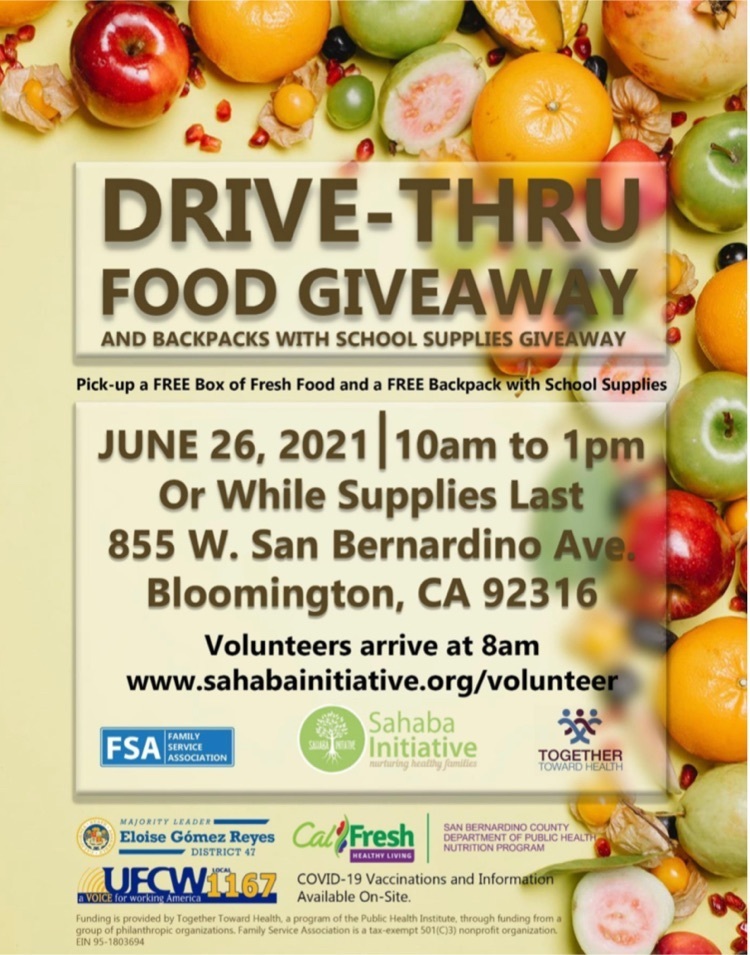 Central School District is excited to announce that our fee-based before and after school childcare program, Kid/Teen Central will be open for the 2021-2022 School year at all Central School District schools. If you are interested in on campus childcare for your student, please click on the link below. On our Kid/Teen Central web page you will find information regarding our hours and days of operation along with tuition rates. Kid/Teen Central is excited to once again be serving our community and we look forward to welcoming out students back for the 2021-2022 school year.
https://csd-ca.schoolloop.com/kc